What is a Balcony Woman?
A woman God placed in your life to encourage you. You will find her in the balcony of your life hanging over the railing cheering you on.  A woman who genuinely wants to see you succeed and is excited when good things happen to you.
Therefore encourage one another and build each other up.
1 Thessalonians 5:11
Our Mission
Our mission is to encourage women of all ages to become Balcony Women by helping them understand that each of us are blessed with certain gifts and talents to fulfill our God given purpose in life.  The first step is to see other women's gifts
and talents as a blessing not as a threat, but as part of God's plan for their lives.  It has nothing to do with your success, failures and happiness.  We mentor women concerning their TRUE identity in Christ and His purpose for their lives. 
Once we become Balcony Women it should be our heart's desire to lift up other women.How we walk this out is different for each of us. God laid it on our hearts to engage our group of Balcony Women to care for His widows. Click here to view our Balcony Women Ministry Guide.
Join Us
When you shop our online gift store, you are lifting up and encouraging other women.  All proceeds from your purchases support our ministry.  Balcony Women is a 501c nonprofit.  You can donate on our website, visit our Give Butter donor site, text to give, or by mailing your contribution.
Balcony Women is an Amazon Smile Charity. You can support other women by choosing Balcony Women, INC as your Amazon Smile charity.
Balcony Women welcomes volunteers who lift up and encourage others. Currently, we have 159 active Balcony Women volunteers.  Please email Melissa at melissa@balconywomen.com to learn more.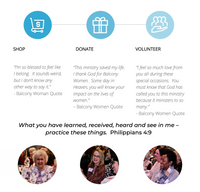 Text BalconyWomen to 202.858.1233 or scan code to donate.